Gentle Knife – the Norwegian progressive rock ensemble featuring 11 members and associates. The story:
Pre assembly:
1989: Charlotte Valstad Nielsen and Eivind Lorentzen study musicology together at the University of Oslo.
1994: Artist and author Brian M. Talgo establishes his cellar atelier in Oslo. He paints while listening to King Crimson just below the flat where Eivind is practicing Guitar Craft-primaries and repertoire. They become friends and sense that something creative can be achieved.
1995: Ove Christian Owe and Yoshiji Goto meet in Seoul, Korea in August 1995. They jam, write and record music in Yoshiji's home studio in Omori, Tokyo in the winter of 1996. Yoshiji later designs our band logo.
Early 2000: Saxophonist Thomas Hylland Eriksen comes out to the world and to the owner of Bajkal Records, Øivind Hånæs, as an unashamed prog saxophone player.
From 2003, Eivind, Pål, Odd Grønvold, Håkon Kavli, Ole Martin Svendsen and Astraea Antal play and gig together in various bands, cabarets and at various events. Occasionally, they sneak in music of their own into the sets. They get told off. They soon realize something's cooking.
2008: Pål Bjørseth graduates with a master degree in musicology.
Autumn 2012: Eivind, Ove Christian, Pål and Ole Michael Bjørndal begin discussing musical ideas.
May 2013: Eivind and Ove Christian start practicing guitar together. They feel that some of the ideas ask for a larger team to bring them about. Smells progressive.
Assembly:
2013: Eivind, Brian, Pål, Ove Christian, Odd, Ole Martin and Ole Michael meet, improvise and rehearse various stuff. They quickly agree that playing covers is not the thing, and acknowledge that new music insists on being written.
June 2013: Parts of the track Impetus are recorded at Per Øyvind Paulsen's Bark Studio in Oslo.
2014: Woodwinds are wanted. Astraea and Thomas join. The gradually expanding group convenes more frequently for rehearsals and improvisation.
The group realizes the importance of Brian's lyrics, and embrace his artwork and photography as an integral visual trigger and inspiration.
October 2014: Håkon joins on vocals and guitars. We have a leading male vocalist.
November 2014: Melina Oz joins as the leading female vocalist for our debut album. At this point, our little prog rock doodles have grown longer. Riffs, melody lines and soli merge. Sound, visual ideas and other ingredients come together to shape a future progressive rock monster.
Gentle Knife – the band: 
November 9 2014: We agree on our band name. Its' origin remains our little secret. You are more than welcome to ask any band member at any time, but you will probably get a different answer for each person you ask…
November 2014: We realize we need fellow knifers to express our ideas, and launch an official Facebook band page. There is an immediate positive response from our surroundings.
There's more.
Debut album – Gentle Knife (2015): 
Winter 2014-2015: On several occasions, we travel on slippery winter roads to SoundLab Studioes in Skotselv, Buskerud/Norway for improvisation sessions – and recording. We realize we are actually recording our debut album.
Ole Michael contributes additional guitar on some of the debut CD, before choosing to focus on other bands – Oak and Airbag's Bjørn Riis.
Astrid Lenvik contributes with additional lyrics on the debut CD.
April 4 2015: Yoshiji Goto, Grafiquo, Tokyo/Japan designs our iconic logo. Thank you, Yoshiji!
May 2015: Debut album release: Gentle Knife
May 2 2015: Debut album release concert in Oslo, Norway. Melina sings the female vocals, before moving on to other rock projects, i.e. Up Against the Phantom. Thank you Melina, for your voice on our debut CD!
With the album release comes a YouTube channel.
2015: The amount of positive international reviews and interest exceeds our expectations. This drives us forward to create more new progressive rock, and towards more daring endeavors, and more live gigs.
More gigs: 
October 2015: Marte Heggelund lends her voice to Gentle Knife live at Progtober 2015, Gamla, Oslo in the good company of Pymlico and Panzerpappa.
October 2015: The band is hired for a private gig to celebrate the anniversary of a known musician. He specifically asks for our music for his event. We end up jamming with him at the highlight of the evening.
November 2015: Charlotte on baritone sax joins the band.
February 2015: Again, Marte sings with us: Gentle Knife Live at Progbotn 2016, Kolbotn, Norway in the good company of Oak and Vinslöv.
September 2016-March 2017: Recording our second album at Lydkjøkkenet, Moss/Norway, Lionheart Studio, Oslo/Norway and in various home studios.
November 2016: Vocalist Veronika Hørven Jensen joins the band.
Second album – Clock Unwound (2017): 
December 11 2016: We name our second album: Clock Unwound.
February 11 2017: Gentle Knife Live at Progbotn 2017, Kolbotn, Norway in the good company of Trettioåriga Kriget.
April 2017: Kristine Gulheim designs the logo for our second album. Sigga Pia Olholm does the graphic designs for the booklet.
May 20 2017: Gentle Knife Live at We Låve Rock 2017, Holmsbu, Hurum in the good company of Clive Nolan, Infringement, Adventure, MEER and A.C.T. This gig leaves us excited and hungry for more.
June 15 2017: We release our 2nd album, Clock Unwound. Within a few short months, the reviews are extensive. So is the air time.
October 28 2017: Gentle Knife Live at Progtober 2017, Oslo, Norway in the good company of Fatal Fusion. We announce an upcoming concert April 2018 with Gens de la Lune. 
November 1 2017: WiV Entertainment GmbH and The Night of the Prog XIII – Loreley prog rock festival announces Gentle Knife to the lineup for 2018.
November 4 2017: Gentle Knife Live at Haugaland Prog&Rock Festival in the good company of David Cross Band, Det Skandaløse Orkester, Fatal Fusion, Fengande Spetakkel, Magic Pie, Novocaine, Ring van Möbius, Seven Impale, Shaman Elephant and Ruphus. Aftermovie 2017 on YouTube by Joao Felipe, AmberFoil.
December 2017: At the end of the year, 45 prog rock radio stations have played our music, and Clock Unwound has received 83 unique reviews world wide.
Flashback2017 (Facebook video)
2018:
April 2018: Gentle Knife plays live at Progbotn 3, Kolbotn, Norway in the good company of French prog rock guests Gens de la Lune featuring Francis Decamps.
July 15 2018: Gentle Knife travels to StGoarshausen, Germany and plays live on the Loreley Freilichtsbuhne, Night of the Prog XIII – Loreley
August 2018: The band goes into hiatus.
2019:
June 2019: After five years of activity, two acclaimed studio albums, ten concerts in Norway and abroad, and being featured on several compilation albums, Gentle Knife decides to dissolve the band in June 2019.
-We had many unfinished ideas and goals, but 11 busy people eventually embraced the fact that we could no longer uphold our activity. Many thanks to everyone who listened, supported, helped, followed and encouraged us, everyone we have had the pleasure of collaborating with, and everyone we met over these past five years. It was a fun and rewarding journey.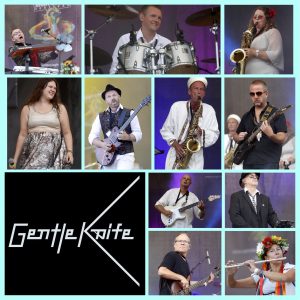 Live at Night of the Prog 2018-Loreley. Photo: Bert Treep.
The band's sonic helpers and the recording processes: 
An integral part of Gentle Knife's sound came from the fine sound experts that worked with us. They not only added a professional brush, but helped clarify the musical ideas and place the actual product in your hands – and in your ears. We are very grateful to all!
Gentle Knife (2015):
Our first album was recorded in short, intense sessions with many musicians in the studio, developing ideas on the go or playing off on one another. Some of us had ideas where any given song was going. Others contributed by creative improvisation. This fused into a product combining structure and play.
Øyvind Engebretsen at Sound Lab Studioes As (Skotselv, Norway) knew how to capture these sessions on tape. Neil Kernon knew how to make sense of it all in the final mix. His experience from a number of classic records served him well in solving the puzzle of many tracks in a short and intense mixing period. Morten Lund's expert mastering and final touch at Lunds Lyd (Oslo, Norway) gave our debut album a sound that we are very content to present to our audience. All three did a great job, above and beyond the call of duty. Daniel Engen Productions delivered CDs by the crateful on our doorstep.
Clock Unwound (2017):
For our second album, more of the material was rehearsed, and all band members were now hands-on during a longer writing and recording period, with more attention to composition. We combined pre-planned recordings with improvisation in home studios and professional sound rooms.
Both Øystein Vesaas at Lydkjøkkenet, Moss, and Øyind Voldmo Larsen at Lionheart Studio, Oslo greeted us warmly and facilitated recordings for our second album. Unsung Productions, Berlin, Germany handled mix and mastering: Marcus Reuter and Benjamin Schaefer used their unique sound modelling techniques to enhance our efforts. Lee Fletcher's mastering ensured a fine blend. Once again we leaned on Daniel Engen Production's swift and reliable services to deliver crates of CDs in the 11th hour.
Our record company:
Bajkal Records was launched in 1989 from the small village of Aurland in west Norway, before relocating to Krokstadelva in Buskerud county. The founder, Øivind Hånes, is a Norwegian author, musician, composer and producer. Øivind has collaborated with several of us in different contexts for several decades, and contributes on organ on Epilogue: Locus Amoenus.
It all comes down to this:
…None of this would be possible without the continuous support – and teeth-grinding patience – from our families, friends, supporters and listeners. Sound is nothing, if no-one listens… Thank you!
From the left: Brian M. Talgo, Pål Bjørseth, Odd Grønvold, Astraea Antal, Veronika Hørven Jensen, Ole Martin Svendsen, Håkon Kavli, Charlotte Valstad Nielsen, Eivind Lorentzen, Ove Christian Owe. Thomas Hylland Eriksen was not present when the photo was taken.